Edit and save
Edit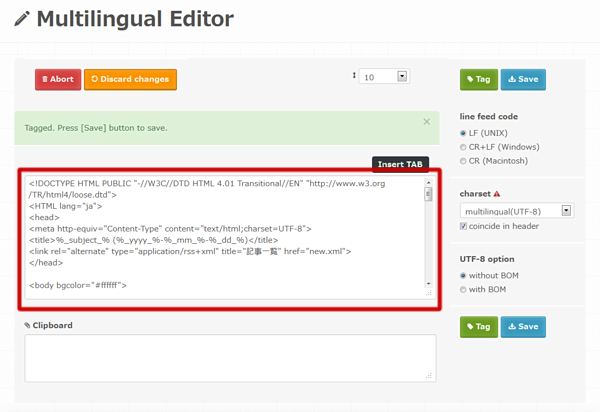 Edit content in the upper textarea.
Save (Download)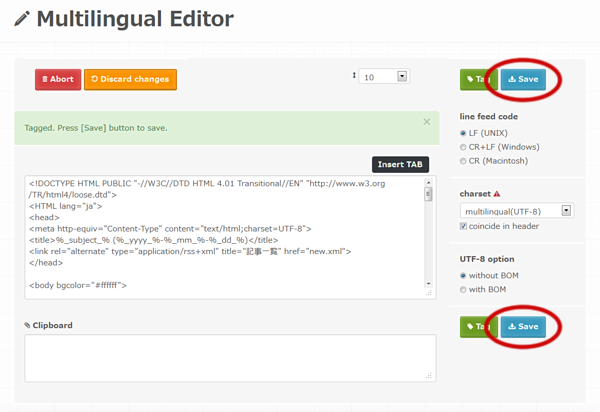 Press the [Save] button to save.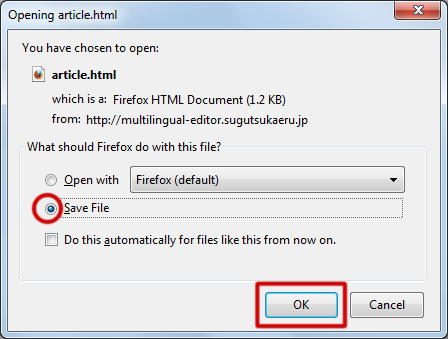 The content will be downloaded. If an option panel popped up, select saving.
* The appearance vary depending on the environment.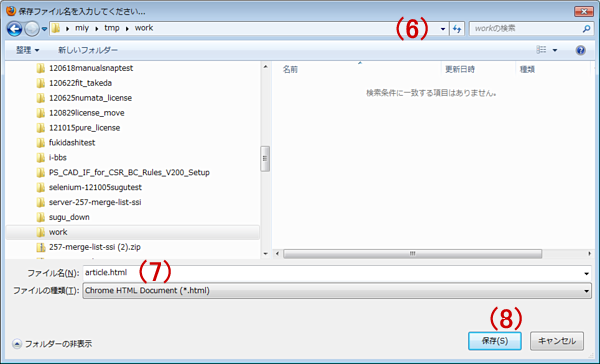 (6) Select the folder where you want to save, and(7) input a filename to be saved as.
(8) Push the [Save] button and the content will be saved on your computer.
Input TAB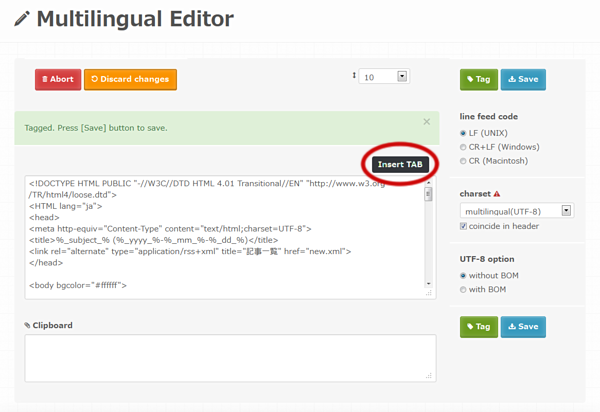 Push the [Insert TAB] button to insert a TAB at the cursor position in the main content area.
Begin to edit
Select character encoding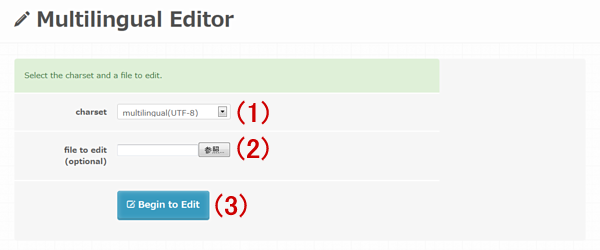 The first step of editing is to (1) select the character encoding. Select one from the pull-down list and (3) push the [Begin to Edit] button.
Upload source file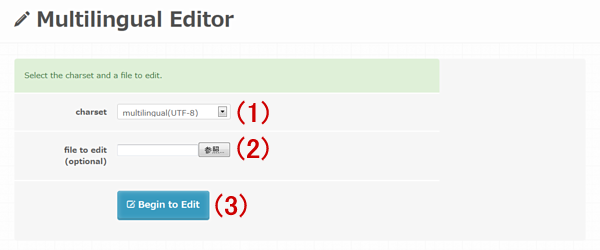 If you have a source file, select (1)from the pull-down list the character encoding in which your file is saved and (2) the file, then (3) push the [Begin to Edit] button.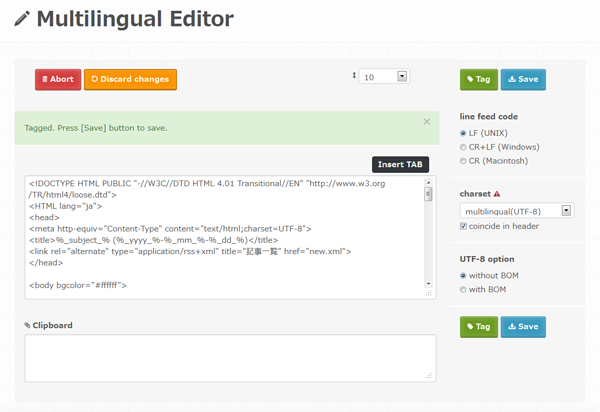 If the character encoding is set correctly, a textarea will be displayed without garbled characters.
If garbled characters were shown, return to the previous screen with the [Abort] button and select the file and the corresponding character encoding again.
Miscellaneous manipulations
Discard changes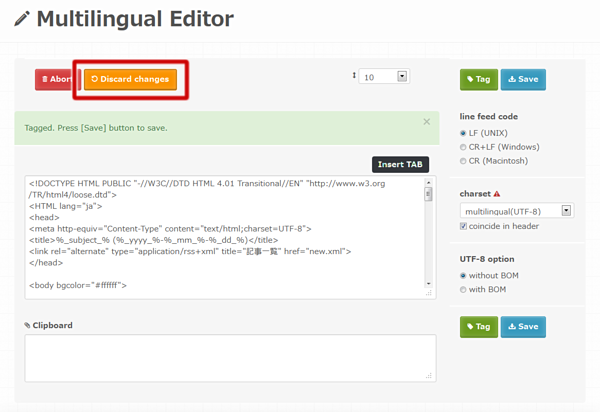 Clicking the [Discard Changes] button resets changes you have made.
Set the reset point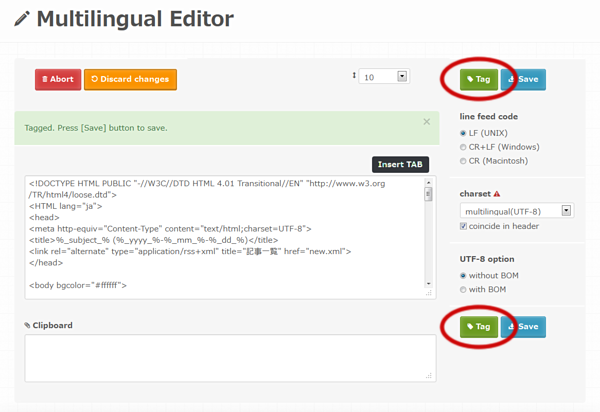 Clicking the [Tag] button set the current state as the initial where you can reset to with the [Discard Changes] button.
If the "charset" is changed, the conversion will be processed.
Quit editing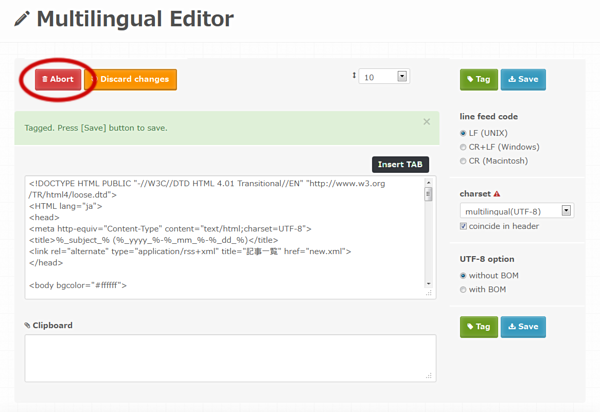 Pressing the [Abort] button throws away any work you have made and return to the initial page.
Change the size of the input area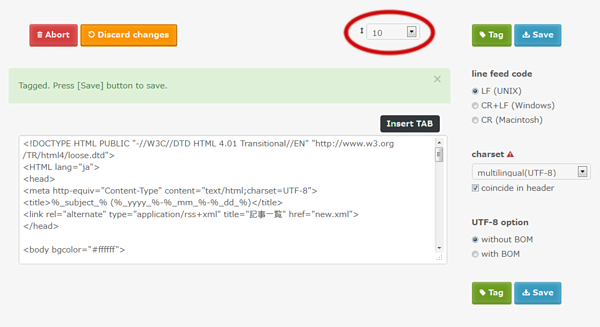 You can change the height of the input area by selecting a value from the upper-right pull-down menu.
Change line feed code (Optional)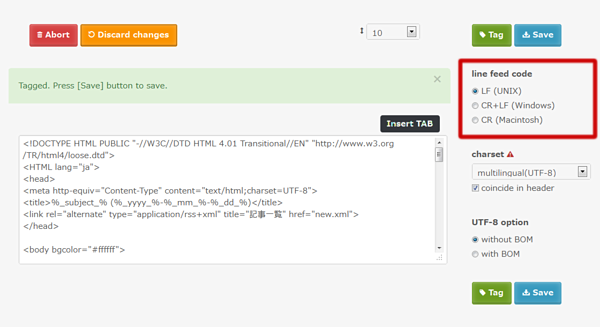 Click a line feed code you like to use.
Change character encoding (Optional)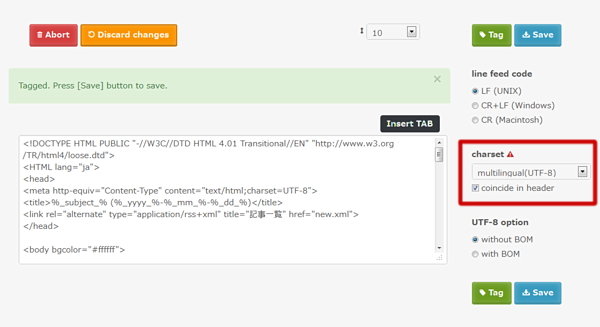 Select a character encoding if you want to convert.
Checking "coincide in header" converts "charset" and "encoding" included in the text (eg. meta tags in a HTML code).
Charset change may produce garbled characters.
Simplified and traditional chinese letters will be converted to each other. If you want to convert chinese letters saved in UTF-8, work it out as following: UTF-8 -> BG2312 [Tag] -> Big5 [Tag] -> UTF-8 [Tag] .
BOM option (UTF-8 only)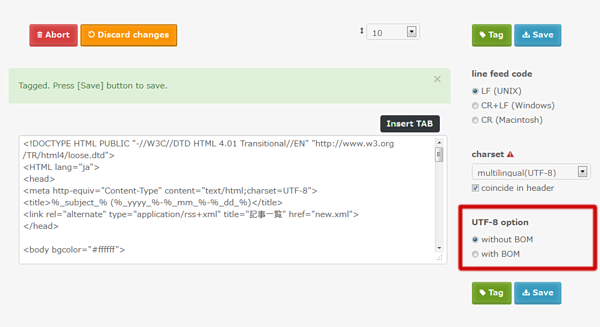 You can add or remove BOM.
Select "without BOM" if you are about to save a CGI or HTML file.
Required environment
For the function of this tool depends on browser, operating system, fonts, input method of your environment, etc, it may not work on your computer.
Before editing your file, please check if the following files appear correctly and you can edit and save them in the character encoding that you want to use.
Test files
Save it directly from the right-click menu or the context-menu without opening it in your browser window, and upload it as a source file.